"Put 'em up!"
Ganin is a wrestler in VGCW who acted as a loyal henchman for Ganondorf.  He is best remembered for taking a stunner from Duke Nukem.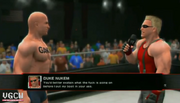 Online Debut
Edit
Ganin made his debut on 2013-11-11 , through the online social media of Twitter.  Originally posing as nothing more than a joke, Ganin would later take to ring to show the world that he was no joke.
The Dark Lord (#2)
Edit
On 2013-12-10, Duke Nukem entered the ring to face Ganondorf in a rematch.  However, he wasn't greeted with the presence of the Dark Lord.  Instead, Ganon had hatched a genius plan to send Ganin out to the ring.  Upon meeting an obviously displeased Duke, the two exchanged words, leaving Duke furious.  Flipping off Ganin, Duke proceeded to put Ganin into the stunner.  He lay on the mat, crippled, and we haven't seen him since.
Nobody knows where Ganin's illustrious career will go from here.
Behind the Keyfabe
Edit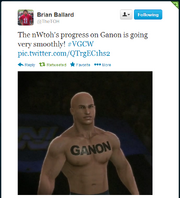 "Ganin's" CAW originated from a joke posted on TheTOH's Twiiter.  Over the transition from WWE'13 to WWE 2K14, the task of creating Ganon was obviously going to be quite the challenge.  Jokingly, TOH posted an image of Ganin to his twitter, stating that "Progress was going smoothly!".  The image was, in fact, the default superstar with "GANON" painted across his chest in big, black letters.
Community content is available under
CC-BY-SA
unless otherwise noted.