"FLINT AND BARRET CONFIRMED FOR NEW TAG TEAM!
We didn't say that ya' jackass!"
Flint & Barret (formerly known as Barret & Flint) is a Tag-Team formed by... Flint and Barret (formerly formed by Barret and Flint). Despite assisting each other throughout Season 8, it wasn't until Season 9 that they became an official Tag-Team. They would remain partners until Barret's departure from VGCW in Season 12, ending with a Power Smash from Flint.
In VGCW
[
]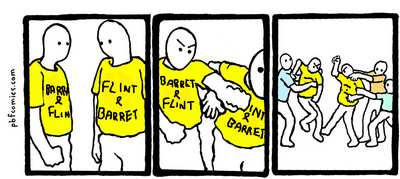 Tag-Team Record
[
]
| Date   | Opponents   | Result   | Tag Record   | Notes   |
| --- | --- | --- | --- | --- |
| 2016-05-15 | Shadaloo | Loss | 6-7-0 | 6-Man Tag Team w/ Dracula |
| 2016-01-26 | The Fuckheads | Win | 6-6-0 | Tornado Tag Tables |
| 2015-09-01 | The Mystical Ninjas | Win | 5-6-0 | Tornado Tag |
| 2015-08-04 | Birds of Prey | Loss | 4-6-0 | |
| 2015-06-02 | The Mavericks | Win | 4-5-0 | |
| 2015-05-12 | Sonic & Knuckles | Loss | 3-5-0 | |
| 2015-01-06 | PK Chu | Loss | 3-4-0 | For Co-Op Championship |
| 2014-12-23 | The Dragons | Win | 3-3-0 | Co-Op Championship #1 Contenders Match |
| 2014-12-16 | ToeJam & Earl | Win | 2-3-0 | Co-Op Championship #1 Contenders Qualifier |
| 2014-12-02 | The Practice | Loss | 1-3-0 | |
| 2014-11-04 | PK Chu | Loss | 1-2-0 | |
| 2014-10-28 | The Mavericks | Loss | 1-1-0 | Tornado Tag Extreme Rules; #1 Co-Op Contenders' Tournament Semi-Final |
| 2014-10-28 | Toejam & Earl | Win | 1-0-0 | Debut; #1 Co-Op Contenders' Tournament Quarter-Final |