CM Punk
WWE Superstar

Real Name
Phillip Jack Brooks
Nickname(s)
CM Punkrock, Chick Magnet, Chicago Made, The Best in the World
Billed From?
Chicago, Illinois
Company/Group?
WWE
Debut
2013-01-01
Ring Intro Music
In Living Color - Cult of Personality
Signature(s)/
Finisher(s)
GTS (Go to Sleep),
Anaconda Vise,
Diving Elbow Drop

| | |
| --- | --- |
| | |
| Biggest Ally | Colt Cabana |
| Other Allies | Daniel Bryan, Paul Heyman, Luke Gallows, Joey Mercury, Mark Henry |
| Past Allies | Table-san |
| Biggest Enemy | Dr. Chris Amann |
| Other Enemies | Z-Packs, Staph Infections, Mickey Gall |
| Past Enemies | Daniel Bryan, John Cena, Mark Henry, Kane, The Rock, Paul Heyman, Brock Lesnar, Ryback, Randy Orton, John Morrison, Triple H, Kevin Nash, Fred Flintstone, Curtis Axel, Edge, Samoa Joe, Alberto Del Rio, Kassius Ohno |
| | |
"Do I have everybody's attention now?"
In Real Life/WWE
Edit
CM Punk was a pro wrestler for the WWE, and was one of its biggest stars. He's known for his straight-edge lifestyle and exceptional work on the microphone. Punk's WWE career really took off in the summer of 2011 when he delivered a long tirade against WWE management. Shortly after, he beat John Cena to become WWE champion. Punk was renowned for being the longest WWE title holder in the last 25 years; he held the belt for a whole 434 days. His reign was finally ended by The Rock at the 2013 Royal Rumble.
He is the guy on the cover of WWE '13, the game Bazza used for the first year of VGCW.
After the 2014 Royal Rumble, Punk did not show up to the following RAW or SmackDown shows, and the WWE website stopped advertising him for upcoming events. Wrestling magazine The Wrestling Observer reported that Punk had legitimately left after telling WWE executives he was "going home". After nearly a year of speculation, Punk would break his silence on Colt Cabana (friend of Mr. Punk)'s podcast to confirm he would never return to WWE or wrestling at all, as well as air a gigantic amount of dirty laundry that made it very clear why he wouldn't, and perhaps that the company didn't deserve him.
He did marry AJ Lee, end up on Talking Dead, and get comic writing jobs so good for him. On the other hand, he then joined UFC, which may go very BAD for him...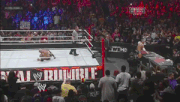 On
January 1st 2013
, CM Punk participated in the fourth match of the
VGCW VS. WWE
series, facing
Mike Haggar
in the Mayor of Earth's VGCW debut. In the match between Haggar's pipe and Punk's pipe bomb, Punk managed to remain the more dominant competitor throughout the heated match, but a quick rollup from the mayor of Metro City cost Punk the victory. Punk's loss meant the VGCW crowd tied the score 2-2 against the WWE.
Impact on VGCW
Edit
While CM Punk hasn't influenced as many VGCW wrestlers as John Cena, he was an enormous and important influence on Charles Barkley's transition from a successful, but increasingly disliked wrestler to a highly controversial hype machine thanks to a pipe bomb-esque speech that Sir Charles gave on 2013-05-15, firing shots every which way and inviting both praise and hatred from whoever listened. The impact this speech had on Barkley's career was so great that he immediately was nicknamed "CM Dunk" by the crowd. Unfortunately, instead of a 400+ day long title reign, it coincided with Barkley's glitch-knee being fixed, which resulted in a fall from grace from Barkley so great he would ultimately end up fired.
Community content is available under
CC-BY-SA
unless otherwise noted.